ACES can provide you with the perfect size container to suit your needs.
Our closing top rolling bins are available in 2, 3, 4, and 6 cubic yard sizes.
Contact us via email or locally call (209) 274-2237.
Whether you need bin service daily or weekly ACES will provide you the service you need!
BIN ENCLOSURE GUIDELINES
In an effort to maintain a safe working environment, we ask that you adhere to the following guidelines in enclosing your bins:
Make sure that our driver has direct access to the bins i.e., the driver can drive straight in to empty the bins.
The surface the bin(s) will be set on must be level to avoid the bin(s) with wheels from rolling away.
All bins must be placed on a hard surface; either four (4) inches of concrete or asphalt on top of eight (8) inches of road base.
There should be a pad with an apron ten (10) feet out from the container area with the same thickness of base and top asphalt or concrete.
We strongly suggest that a simple storage area be constructed, at least eleven (11) feet wide and twelve (12) feet long and at least six (6) feet high, with a gate or entryway built at the middle of the rear wall to allow for easy access.
Since the bin is emptied by lifting it over the front of the truck, there must be a minimum of sixteen (16) feet of clearance overhead.
We also suggest that the front of the enclosure be secured by a gate, preferably a cyclone gate, using heavy duty hinges capable of supporting the weight. It is important that the gate opens outward allowing for easier access.
Finally, a four by four railing should be attached or bolted to the side walls to keep the bins from hitting and damaging the walls.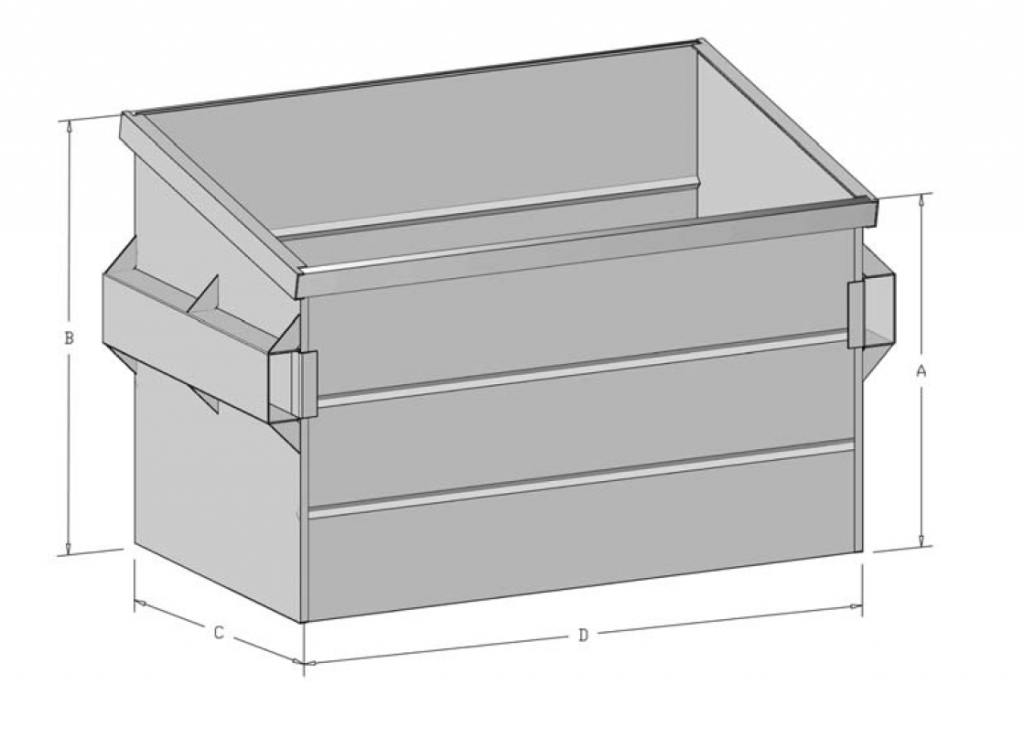 | | | | | |
| --- | --- | --- | --- | --- |
| SIZE | FRONT HEIGHT | BACK HEIGHT | WIDTH | LENGTH |
| | A | B | C | D |
| 2 YD | 34" | 41" | 34" | 72" |
| 3 YD | 41" | 50" | 41" | 72" |
| 4 YD | 46" | 57" | 50" | 72" |
| 6 YD | 64" | 71" | 58" | 72" |